Volunteerism:
We are currently in need of volunteers for our Solo and Ensemble Festival on Thursday, February 9th. Please click the link below in order to get signed up!
https://signup.com/client/invitation2/secure/785327232092/false#/invitation
Thank you! We appreciate your help and support!
Solo/Ensemble Festivals: ALL STUDENTS PLAN TO ATTEND BOTH EVENTS
– Urbandale Solo Festival: Thursday, Feb. 9th – CLICK HERE FOR SCHEDULE
– Perry Band Olympics: Saturday, Feb. 18th – CLICK HERE FOR SCHEDULE
Families are encouraged to attend our Solo and Ensemble Festival next Thursday evening. The event will be held within our music wing from 5:00 PM – 9:00 PM.
Note for Perry Band Olympics: We WILL be taking buses to the Perry Band Olympics this year. Click HERE for the itinerary. Students must be on site at 6:45 AM. We will depart for Perry High School at 7:00 AM. Any deviation from this itinerary must be communicated to Mr. Dupuis by NOON the day before the event. Students choosing to ride with a family member to the event should check the schedule attached above and arrive approximately 1 hour prior to your assigned time.
Perry High School
1200 18th Street
Perry, IA 50220
Other Reminders
• Students should have their own original copy of the music
• Music can be ordered through Reiman's Music, JW Pepper (online), or other music outlet
• Students have one remaining rehearsal date with their accompanists this Sunday, Feb. 5th. Sunday's rehearsal will occur in the Science and Social Studies Pod. Students must take their instruments home and/or place them in a room other than the band room on Friday, Feb. 3. Mr. Dupuis will provide more specific instructions in a separate email.
Tallcorn Jazz Festival:
All three jazz bands will be performing at the Tallcorn Jazz Festival on Friday, Feb. 17th. The student itinerary can be found HERE.

Please be aware this event is scheduled for Friday, Feb. 17th. Students will be dismissed from class.

Parking + Ticket Info for Families:
The performances will be live streamed at the links below:
Daytime Audience Admission is $5.00 per person
Tickets are good for unlimited admission to both centers (GBPAC and Russell Hall)
Children under 10 will be admitted for free
Families should park at the GBPAC Visitors Lot (See site map)
The 7:00 PM UNI Jazz Ensembles + Guest = Artist Anat Cohen is a separate ticketed event. Tickets can be purchased HERE.
Concert Band Performance:
Friday, March 3 2023
Time – 7:00 PM
This concert will feature all three UHS Concert Bands. We hope to see you there!
Southern California Tour – March 8th – 13th
A Tour Handbook has been shared containing information on our upcoming tour. T-Shirt orders should already be submitted. Please read this information carefully in order to prepare for a successful trip. Families are strongly encouraged to attend an informational meeting on Monday, Feb. 27th in order to go over last minute tour information. Be aware this is the same night as conference at UHS. We will meet in the UHS Band Rooms.
*REMINDER – Students will need to provide their own transportation too and from the Des Moines Airport. Please begin planning now for a ride that will need to happen very early in the morning.
Ms. Fournier – Student Teacher
We are excited to have Ms. Fournier working alongside the Band Department this semester. See a brief message from her below: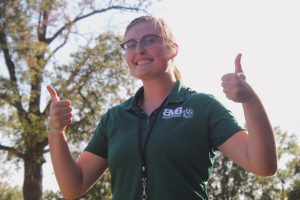 My name is Ms. Fournier and I can' t wait to begin working with Urbandale Bands! My primary instrument is the clarinet and I have been playing for over 12 years. I attend Northwest Missouri State University, and I will be graduating this May. My hometown is Ankeny, Iowa, which is why I decided to come back to the Des Moines Metro. If you have any questions, feel free to email me, fourniera@urbandaleschools.com. I look forward to working with the students at Urbandale and helping them continue to grow into great musicians!
Civic Music Association Scholarships
The Civic Music Association of Des Moines was established in 1925. Their mission is to engage, enrich, and educate the central Iowa community through provocative, world-class musical performances by legends and rising stars. They offer some fantastic scholarship opportunities for students offering funding that can be used for music lessons, instrument rentals/purchase, and summer camps/programs. Applications are accepted through April 1st!
https://civicmusic.org/studio/scholarships/
2022-23 Band Placements
Band placements for the 2022-2023 concert bands will take place shortly after spring break.  Students will be assessed on the following skills:
Music reading – sight-reading via the "sightreadingfactory.com"
Technique development – Major scales and chromatic scale
Tone quality
History: attendance habits, quality of participation, and attitude.
A list of requirements for each concert band can be found HERE.
Let us know how we can help with your preparation!