The 2022 Urbandale Marching Invitational
This is an event for which we count on support/volunteerism from 100% of band families
On October 1st, we will host the 24th Annual Urbandale Marching Invitational. Urbandale High School will host 18 marching bands, around 2000 students, and another 2000 spectators from 3:00 – 10:00 p.m. Our event is well known in the state as a premier event with the best hospitality around.
To make it happen, we count on each family contributing volunteerism in the areas of ticket sales, concessions stand, band hosts, and more. Please visit the link below and sign up to help!  The tasks are easy and the time working with other families is fun.
Pit Crew Request:
We need Pit Crew Members to provide trailers and drive trucks for our guest bands' larger percussion equipment.
Please contact Mr. Dupuis if you would be willing to help with these positions.
General Band Volunteerism
Links for both general band and Urbandale Marching Invitational volunteering opportunities are always available on the Volunteering Page on the Band website. The next opportunities are for the football game on Sept. 16th and the Johnston Marching Invitational on Sept. 17th.
Prop Building Crews – Thank You!
This year the UJB Marching Band is proud to incorporate props into our show. We would like to extend our gratitude to the following crew members for their generous time and efforts towards our show:
Build Crew
Greg Stice
Rosemary Stice
Hope Stice
Nick Iwig
Becki Iwig
Paint Crew
Greg Stice
Rosemary Stice
Hope Stice
Cody Iwig
Arianna Lear
Liz Luke
Jack Neas
Josh Neas
Jamie Neas
Regan Anderson
Johnston Marching Invitational
Tickets may be purchased in advance for the Johnston Marching Invitational using the QR code linked below: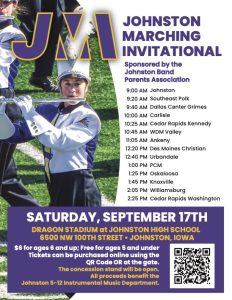 .
Senior Night
Senior Night will be on September 30th (same as UMS band night). We will be recognizing seniors and families PRIOR to the beginning of the game. Please adjust your schedules accordingly.
Lesson Schedule
The Band Lesson schedule is posted on Lessons tab of the band website.  We're constantly making adjustments to the schedule. Please refer to it on a weekly basis to ensure you arrive to your lesson at the correct time.
Students who are not studying privately will have a weekly scheduled lesson with a staff member at UHS. This may result in students having lessons in groups of two or three.
Students who are studying with a private teacher will be allowed to "vouch" for their lessons by having their private teacher sign a voucher form (also available in the Lesson tab of the band website).
Class Assignments
Students will be asked to perform memorization checks on the marching band music during their lessons. To receive 100%, students should be able to play the entire set of music memorized by Oct. 7th. Students will not be allowed to perform with flip folders beginning at our Sept. 17th away performance at Johnston. Assignments are posted on Canvas and can be submitted there or played live for a director.
Video recordings should be at a wide enough angle to show the student and surrounding area and have the music playing in the background. Music can be accessed on the marching band page of the band website.
Marching Band Itineraries
As they become available, all itineraries related to marching band will be posted in the Itineraries tab of the band website.
All State Mock Auditions
All State Mock Auditions will occur each Monday, 3:20 PM – 4:00 PM, now through Oct. 22nd. Students will perform excerpts of their audition material for a director and students on similar instruments. Students who wish to audition for instrumental All-State are expected to attend all mock auditions.