PABC Garage Sale – THANK YOU!
Thank you to Kari McLaren and Rosemary Stice for organizing this year's PABC Garage Sale! Our families and community raised over $4400 for the Band, Vocal, and Drama Departments. We are extremely thankful for everyone's generosity and support.
Awards Concert
Monday, May 1st – 7:00 PM — Student Call Time: 6:20 PM
We look forward to seeing band families at our final home concert band performance of the season.
***Seniors – please make sure to send Mr. Dupuis a baby photo and senior photo by Monday, April 24th.
Wind Symphony and the Urbandale Vocal Department are excited to present the world premiere of a newly commissioned piece entitled Meant For This World by Dr. Michael Golemo. Through this commission sponsored by the Urbandale Schools and Alumni foundation, we hope to support, encourage, and inspire all people who struggle with mental health. We are proud to dedicate this piece to the Urbandale Music Community.
Live Stream: http://www.j-hawks.com/live
State Large Group Festival
Saturday, May 6th – Dallas Center Grimes High School
All three concert bands (Symphonic Band, Wind Ensemble and Wind Symphony) will perform at the Iowa High School State Large Group Festival to be held at Dallas Center Grimes High School on Saturday, May 6th.  A detailed itinerary can be found HERE.
Dallas Center Grimes High School
2555 W 1st Street
Grimes, Iowa 50111
Drumline Auditions Due April 24th
Percussionists interested in playing in the battery next fall will have the opportunity to submit a video audition no later than April 24th. Interested students should see a band staff member for details. Audition instructions can be found HERE.
Jazz Concert
On Tuesday, May 9th, the high school jazz bands and middle school jazz bands present the last concert of the year.  The concert will take place at 7:00 p.m. in the high school PAC.  Admission is $5
Live Stream: http://www.j-hawks.com/live
Corechella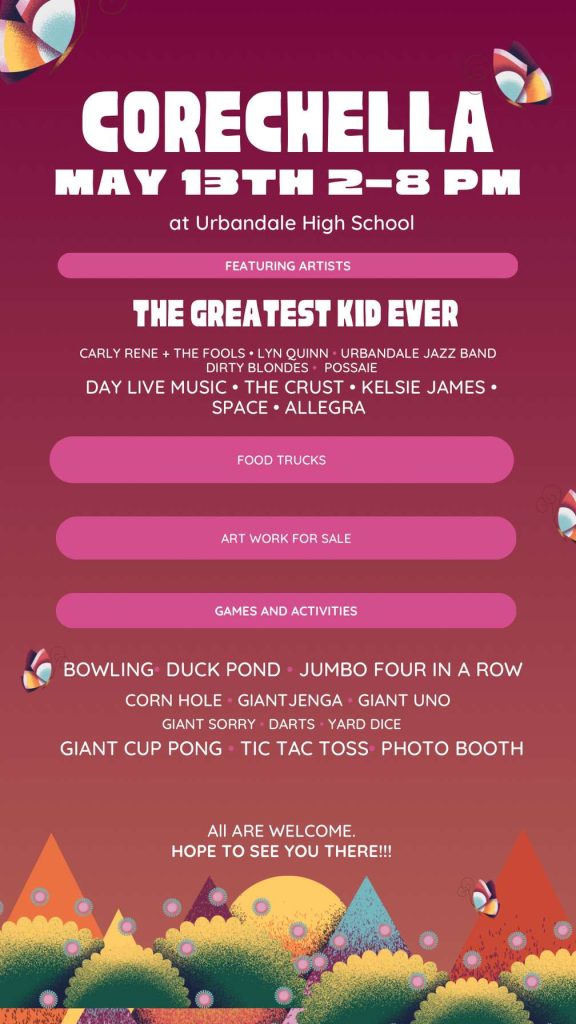 Wind Symphony Elementary Tour
On Wednesday, May 17th, the Urbandale Wind Symphony will tour elementary schools throughout UCSD in order to perform and demonstrate instruments for next year's 5th grade class. The Wind Symphony will feature soloists to introduce each instrument and perform a short concert at each school. We are excited to perform and encourage band enrollment within UCSD!
Commencement – May 25, 2023
Commencement Band will consist of next year's Wind Symphony members who are currently in a 1st period band. Concert attire will be concert black. The band will play from the floor of the Knapp Center in full view of a very large audience. The students' usual professionalism in performance, appearance, and actions will be proudly on display.
An itinerary for the evening can be found HERE.
***2023-24 Calendar – NEW***
The band's complete calendar for the 2023-24 school year is posted HERE. Thanks for adding these dates to your calendar.
As a reminder, you can subscribe to the J-Hawk Band Calendar electronically using this link:
https://www.google.com/calendar/ical/i7d3csg6oincr3dnp1gqklh97k%40group.calendar.google.com/public/basic.ics
Next year's dates will be added to the electronic calendar soon.
The 4th of July Parade
The community has long enjoyed the UHS Band's participation in the Independence Day Parade. Please mark your calendars so band students will be available to provide this great service to our community on Tuesday, July 4th.  Students will be involved from approximately 8:00 a.m. to Noon.
We hope to see you along the route cheering on the band as they perform for you and the whole community of Urbandale!  
ACT Test Dates 2023-2024
Students planning to take the ACT in the coming year should plan ahead to avoid performance conflicts.
June 10 Good day to take the ACT
July 15 Good day to take the ACT
Sept. 9 Good day to take the ACT
Oct. 28 Good day to take the ACT
Dec. 9 ACT TEST CONFLICT W/ Jazz Band; if this applies to you, do not register for ACT on this day
Feb. 10 Good day to take the ACT
April 13 Good day to take the ACT
June 8 Good day to take the ACT
Turn in Band Instruments / Inventory
All band department instruments need to be turned in for our annual inventory according to the following schedule:
Seniors: turn in: May 18th and 19th
Symphonic Band: turn in after rehearsal on Wednesday, May 24th.
Wind Ensemble: turn in after rehearsal on Thursday, May 25th
Wind Symphony: turn in upon returning from graduation ceremony.
This includes any and all school owned instruments, drums, drum stands and carriers, etc.   Parents, thanks for your help in reminding students to check-in their instruments.
All students can check out their instruments for next year beginning on Tuesday, May 26th.
All-State
We encourage students who are in the Wind Symphony, or hope to be in the Wind Symphony someday, to audition for All-State.  For students considering Instrumental All-State auditions next fall, here are the honest keys to success:
Students study with a private teacher on their instrument starting ASAP and throughout the summer.

Play on a professional quality instrument

Practice Daily

Scale and solo preparations.

Build technique: tone quality, range, endurance, finger dexterity, and melodic interpretation

Aim for the 100-day club; practicing for 100 consecutive days – then 125, etc.

Focus on goals, overcome obstacles.